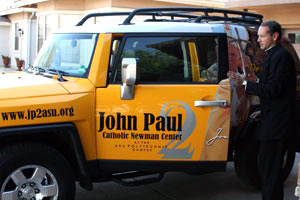 It is a question which, perhaps, facts can answer
Here is an old posting of Fr Michael G
when he was a Legionary
in 2007
It is hard to track Fr Goodyear down but he is still signing LC as author of the 10/23/10
homily on Catholic Net
---------------------------------------
From ZoomInfo:
Father Michael Goodyear
Background for Michael Goodyear
Employment History
Newman Center
Notre Dame Preparatory
Arizona State University
------------------------------------
Fr. Michael Goodyear, LC., is the founding and present director/chaplain of the JP II Catholic Newman Center in the Diocese of Phoenix Arizona.
See the web page
An Interesting Follow Up Question:
Does Fr. Micahel live in a Legionary Community?
If not, how does he continue to consider himself a Legionary?
If he does, the blogger must eat the previous question
----
Now, if he continues to be featured on Regnum Christi web page that would seem to confirm that he is an active practicing Legionary of Christ